Naturally Beautiful Wood Umbrellas
A scant few of Japan's makers of wooden umbrella parts still remain.
We have known for some time that we would one day need to produce the wooden parts that we find indispensable.
To that end, we have introduced a 3d turning machine to our work floor, allowing us to develop distinctive products that are efficiently manufactured with high added value.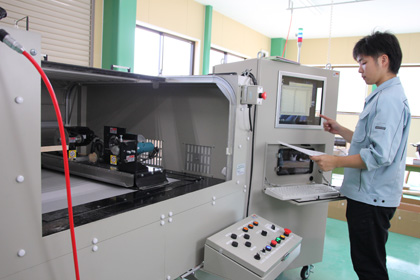 3D Turning Machine
(Patent Registered)
This machine is able to manufacture wooden umbrella parts in even small lots.
It works with the types of wood that have traditionally been used, as well as a variety of new types that have successfully been used to make umbrella parts. This new technology has allowed us at Fukui Yougasa to push forward with manufacturing parts that have traditionally been hard to make, as well as entirely new designs of rib tips, handles, umbrella tops, and other parts, in the hopes of delighting our customers one by one.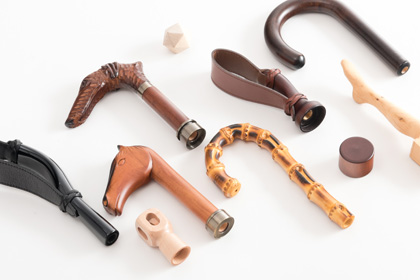 Advantages
・ Replacing our traditional cutting tool with a round rotary blade cuts cycle time dramatically.
・ The 3D turning machine can shave without rotating the material being worked on.
・ We are now able to produce never-before-seen new products with irregular cross-sections.
・ Numerical movement control allows for programmed automatic operation.
・ By equipping the machine with a device that has a hole in the front-back axis, it becomes possible to drill holes in the sides.
・ With a single setting, the machine can perform the entire operation.
・ We are not limited to rounded lumber — square materials can be used as-is.